Experience
12+ Years of Product Experience
Billing, Charging & Session Control Domain
Emerging IP based Access Technologies
Leading Solution for Billing, Subscriber And Bandwidth Management
Catering Wired, Wi-Fi, WiMAX and VSAT Providers
Catering Hotels,Enterprise,Education and Hotspots Management Domain
Solution Delivery Models
Robust appliance based plug-n-play solution
Highly scalable with Single & Multi-Mode Location Implementation
Facility to choose appliance as per user network
User license based on concurrency
Product Strength
850+ Installations countrywide
Catering More Than Million Subscribers
Highly Flexible and Scalable Solution
Who We Are
Around the world, cities are evaluating how to leverage smart technology to enhance citizens lifestyle, increase economic growth and make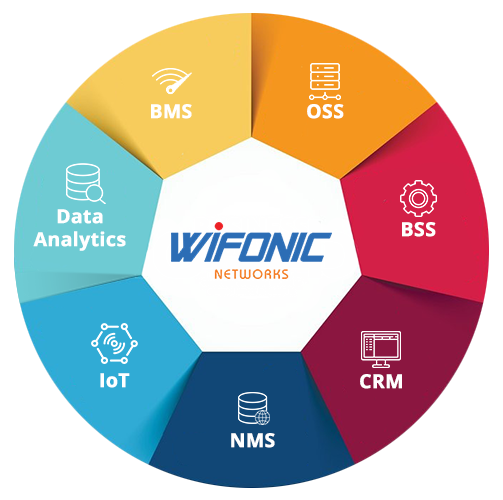 the city more efficient. The possibilities are limitless with advanced technology in smart lighting, traffic and parking systems, public safety and much more.
A great starting point for cities is to deploy public Wi-Fi. Public Wi-Fi is a great way to create a more vibrant community and also connect citizens, businesses and visitors. But the benefits of Wi-Fi don't stop there. Once the Wi-Fi network infrastructure is in place, it can be used to enable other smart city applications such as public safety / IP Video, traffic & parking controls, air quality and many others.
WiFonic Networks is the global provider of WiFi Hotspot Network Controller and Intenet Access Solutions caters to Telcos, ISPs, Hotels, Enterprises, Airports, Malls, and various public Wi-Fi Hotspots in varied networks like W`ired, Wi-Fi and VSAT.
WiFonic is a Next generation WiFi and Internet Access Management solution which is bundled with internet billing, bandwidth management, access gateway, CRM and many such features & functionalities to support the networks. The solution supports different types of use cases and business models which enables business setups and public Wi-Fi hotspots to generate additional through Internet using our solutions. WiFonic Networks has a large client base of 850+ installations.
Partners
Hotel PMS Integration
ISP Partners
Networking Partners